Publication Date: December 22, 2013
Twenty-three year old model Charley Whitlock built a quiet life for herself after disaster struck four years ago. She hides beneath her beautiful mask, never revealing her true self to the world... until she comes face-to-face with her new photographer — sexy, possessive Jude Anderson. It's clear from the first time she meets him that she's playing by his rules. He says jump, she asks how high. He tells her to unzip her cream Dior gown; she knows she has to comply. But what if she wants him to take charge outside of the studio as well?
Jude Anderson has a strict "no model" dating policy. But everything about Charley sets his body on fire.
When a tropical photo shoot in Hawaii forces the stubborn pair into sexually charged situations, their chemistry can no longer be ignored. They'll have to decide if they're willing to break their rules and leave the past behind or if they'll stay consumed by their demons forever.
Will Jude persuade Charley to give in to her deepest desires?
**Recommended for ages 17+ due to language and sexual situations.**
Buy Link
Jasmine's Review
I received/begged for an ARC copy of this book from the author for an honest review.
I seriously
LOVE
this book. This couple is one of my favorite pair ever. They're just perfect for each other. I don't know why but I just felt that they were really made for each other.
Jude, OMG this boy is just
HOT HOT HOT!
That football scene with all those drool worthy sweaty players. Freaking hot!! ALL OF THEM. Especially Jude.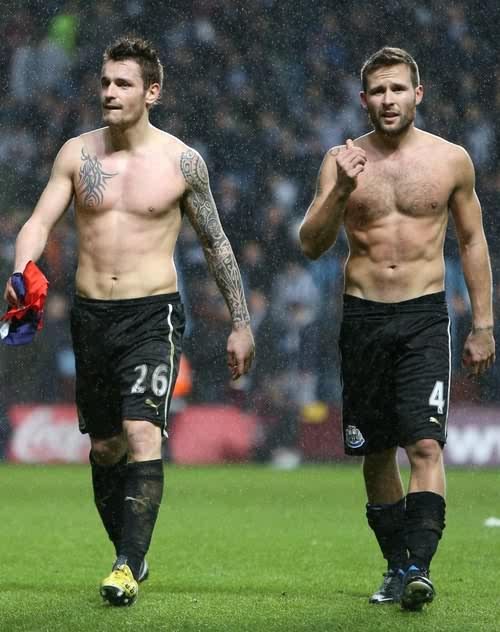 Imagine 10 of them. TEN! DROOL!!!
One thing I love about Jude is that when he figured out he had feelings for Charley, he didn't run away. He didn't do stupid things to make her hate him. And the secrets he kept didn't make him run away... much.
This is how I imagine Bennett
Bennett, Jude's best friend, reminded me of Barney from How I Met Your Mother. With his suits and all. I would really like a book on him and Naomi.
Charley (I just really love that name) way better than Clarissa or whatever her really name is. She is a model, but she doesn't model for fame but only for money. She loves her privacy and painting and I liked that about her.
This couple is really one of the best that I have ever read. It's just one of those things I don't know how to explain.
One thing I don't like about this book is that the ending is too short. I really love HEA (Happily Ever Afters) so I wanted to read more on what happened after they faced their own demons. Especially since I really love them. I want more of them that it's really bothering me. But other than that I love it.:D
5 Cameras Lens!
With Jude being a photographer and all.